How to Create an Outstanding Employee Handbook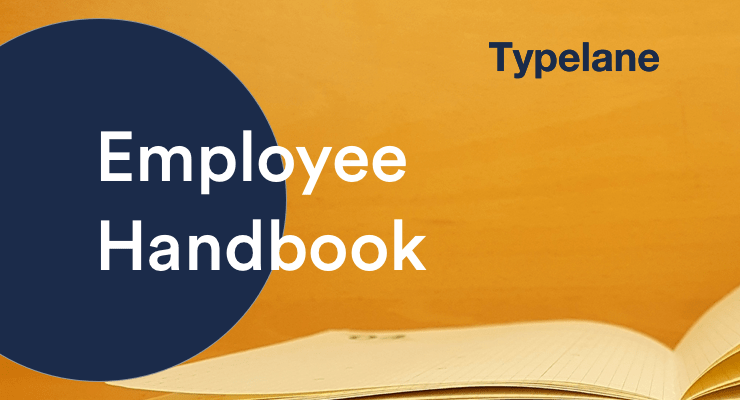 Employee onboarding can be a daunting task but designing an employee handbook is a great way to make onboarding easier.
But setting up an employee handbook can be a bit of work. Why should you make sure to do it sooner rather than later?
3 reasons you should set up an employee handbook
Company culture: A great employee handbook is an important step in building a great company culture. There are few documents that capture the culture of a company as well as an employee handbook. Make sure to let your culture shine through in your employee handbook!
Productivity & saving time: Having an employee handbook will also make it easier to find information, and learn how things work in your company. All new hires won't want to ask all the questions they are wondering about. A good employee handbook can answer most of them. It becomes a document they always can return to and it will help you lower turn over rate due to employee onboarding.
Expectations: A well written employee handbook will also set clear expectations around key things concerning your employees. By highlighting social codes, codes of conduct it will also clearly highlight what is expected of everyone. And how to succeed at your company.
Employee handbooks will simplify the process of onboarding a new hire. It will save time and make information more accessible within your company.
In this post we're going to discuss what an employee handbook is. What it should contain and how it will make life easier for everyone at your company. As well as what the perfect one should contain!
Keep reading to learn more.
What is an Employee Handbook and why is it necessary?
An employee handbook defines your company's culture, procedures and key policies. It is an aggregate of all the important information. Distilled in-to an easy to read guide that helps new hires navigate their way around the organisation.
The purpose of an employee handbook is to educate new hires on how things work. But also give them a bit of background to the company and important social codes. Aside from the guidance an employee handbook offers, it also enables each new hire to find the information as they need it.
So what should you include in an employee handbook? We added the 10 most essential parts of an employee handbook below. But first, how should you structure your employee handbook?
What to include in your employee handbook?
One of the first questions you will face as you are designing your employee handbook is how to make it easy to navigate and use? In our employee handbook we made sure to divide it in to following sections:
Typelane General Information
To-do and read within the first week (focusing on their first week)
DNA & Culture (What Typelane is all about)
General & Practical Information (Where to eat lunch and more)
Meeting Culture (How to run meetings successfully at our company=
People Operations
Office (Our office and security around it)
Time off: Holidays and national holidays (When we are off etc)
Calling in sick / better (Health insurance and other things)
Perks and benefits (All our benefits and perks simply explained)
Travel and reimbursements (What to think and how to get money back)
Codes
Typelane Social Code (How we take care of each other)
Diversity and inclusions (How we take care of each other)
Feedback and Development
Your 1st Month (What we discuss after the first month for a new hire)
One-On-One Meetings (How we run 1-1 meetings and what to prepare)
How to lead at Typelane
Your checklist (for our new leaders we have designed a checklist with important information to cover / think about)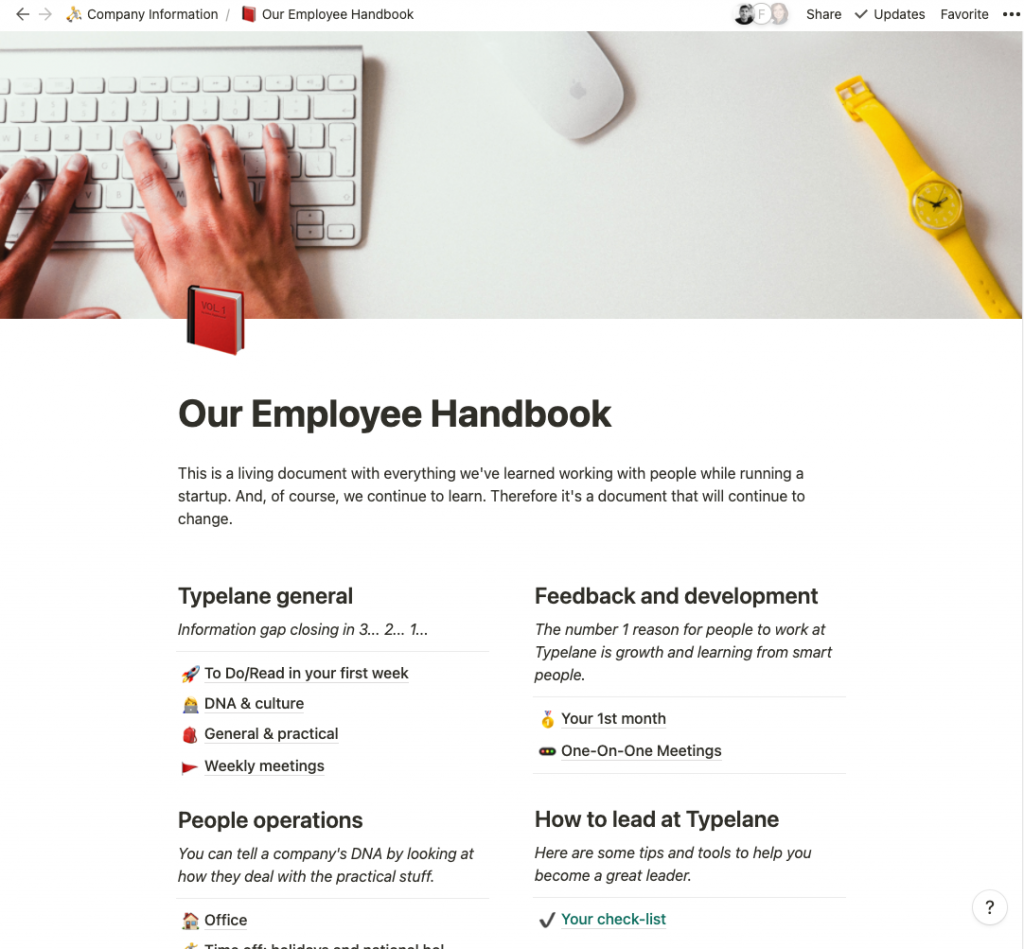 If you are looking for more examples check out Motley fools employee handbook or Valve's employee handbook.
A Welcome Page and General Information
It's important to remember that your employee handbook will set the tone for what it's like to work at your company, the employee handbook isn't just a list of "what not to do". It's also a chance to express what your company is all about and explain the workplace culture.
Make sure to include a welcome page that explains the companies history. With history we mean a bit of background to how it got started and how it got to where it is today. We have covered this in our handbook underneath DNA / Culture. This is a great way to give new hires a bit more of context and understanding. Within these sections it is also great to add information about who's the CEO, visions, core principles, and philosophies are.
In terms of general information in your employee handbook, you'll want to cover the essential parts that new hire need to know. It will be the things that will make it easy for them to get up and running.
Employee Benefits & Perks
It's always good to have a separate page about these things. All companies regardless of being a startup or a big corporate offers some kind of benefits. Everything from free snacks to advance health care options, this is where you list them. Make sure that the text is written clearly to avoid confusion and highlight how employees can access and redeem the benefits if the choose to use them.
Employee vacations & time-off and leave
Vacation policy is an important and frequent question among new hires. Make sure to highlight how vacation works, how many days are usually included and what the policy is around going on vacation. It may be a good idea to also include parental leave and sickness. It makes it easier for the employees to know what to expect as well as which periods of leave would include paid time off.
Practical information about the office
Put down some useful information about the office, how to access it and other important information here. For our employee handbook we have directions to the office, how to access it outside of work hours and what to think about if you are the last person leaving.
Information about what to do the first week
Here you can gather information for the new hire on how they should structure their first work week. It is also smart to add expectations, what they should look for and what to accomplish by the first week. Focus on simple goals to get a few quick wins for the new hire!
Work schedule + working from home policy
As expectations rise on flexibility especially when it comes to work schedule it may be a good thing to highlight the company's views on these things.
Expectations of attendance along with work hours is really important to add. Also clearly state if the company is okay with having employees working from home and how that should be reported, if needed. It is also good to add protocol for reporting absences in close proximity to this part of the employee handbook.
Growth and Development
It's also a good idea to highlight how the company works with individual growth and development. It will enable the new hire to understand the process and the path to success internally. It will also highlight the company as one that sees individual growth and development as an important part of each employees journey at the company.
Employee Code Conduct
This may seem like common sense, but it's still a very important aspect of your employee handbook. This shouldn't just include behaviours and ethics, but also certain legal obligations that your employees are expected to fulfil or a dress code if you have one.
Policies
As an employer, you are legally responsible for providing a safe and secure environment for all your employees. This is another basic essential that goes a long way in your employee handbook, especially because those who you employ have the right to know how you will be keeping them safe.
IT Policy
The IT policy isn't necessarily for people who work with computers. The IT policy outlined in the employee handbook should include the use of personal devices, such as cell phones and other smart devices that may be brought into the office.
It should also include what employees are and aren't allowed to access using company computers (I.e., compromising websites, etc.). In addition, the use of customer information should be very explicitly spelled out.
Your employee handbook is a living document and it will continually evolve as your company grows. The point is to keep everyone on the same page and working in a healthy environment as well as to make sure that you the most important questions!
Sign up for our newsletter!
Fine-tune your knowledge within on- and offboardings with our monthly newsletters.