Best employee onboarding tools in 2021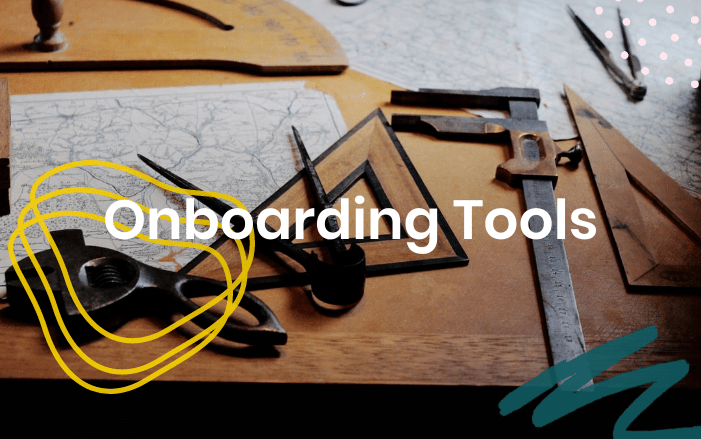 Even though the decade has changed, employee onboarding maintains its position as the key focus for many organizations. As the importance of employee onboarding rises, many companies are now actively looking for onboarding tools and processes to strengthen and streamline their employee onboarding. And in today's competitive landscape, offering new hires a good employee experience is essential. Just looking at some of the statistics regarding onboarding will make your stomach turn. For example, 88 percent of employees feel that they haven't had a productive onboarding program while 69 percent of the employees are more likely to stay with a company after a great onboarding experience. Not to mention the emotional importance of getting off to a good start at your new company and the pressure that comes with learning the social codes, tools and everything else.
In light of these numbers, it's difficult to think of any viable reason for not investing in tools that help deliver a successful onboarding for new hires. Maybe the reason behind not investing is related to the abundance of choices or confusion regarding which tools and features to look for? Whatever the case, we decided to list some of the best tools to help you improve your employee onboarding in 2020.
Typelane – The Smart Way to Onboard New Talent
Typelane is a web-based employee onboarding and offboarding platform built to make it effortless and engaging to pre-board, onboarding and offboarding employees. With a focus on smart workflows, intuitive design and flexibility, Typelane transforms what once was manual and complex process into an easy and engaging one for HR, IT, Managers and employees.
All-in-one onboarding platform for HR and team leads
Easy to use and implement
Secure and GDPR compliant
Smart workflows
Modern, adaptable and intuitive portal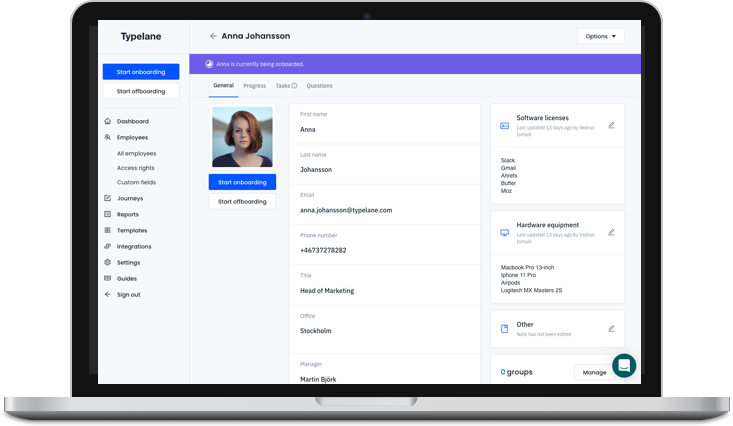 ClickUp – One App to Replace Them All
ClickUp is a web-based project management tool that aims to improve your team's productivity. The tool is more than just your regular task management platform – it offers notes, reminders, goals, calendar, scheduling, and even an inbox-feature. Fully customizable, ClickUp works for every type of team, so all teams can use the same application to plan, organize, and collaborate on your onboarding processes.
Project, process and team management
Team collaboration
Kanban-style boards
Completely customizable
Checklist templates
Typeform – The Future of Forms is Here
Typeform is a web-based SaaS survey and online form building tool. In terms of employee onboarding, Typeform is a great and engaging way to get feedback on the employee onboarding process to make sure you always deliver the best possible onboarding experience.
Employee surveys and feedback forms
Internal sharing
Customizable and user-friendly platform
Intuitive
Templates
Zenefits – Human Capital Management
Zenefits is an all-in-one HR SaaS platform for small and midsize businesses. The platform covers everything from Payroll to Wellbeing and Benefits. With Zenefits, your new hires submit their details themselves entirely online while saving you time and effort.
Hiring and self-onboarding
Employee management
Time off tracking
Business intelligence
Documentation management
LessonLy – Better Team Learning with Training Software
Lessonly is a learning management software that enables teams to improve their work through learning and practice. The tool enables you to build, share and track lessons on the topics that are most important in terms of your employee onboarding. The lessons could be about making new team members familiar with your company culture, software and competitive landscape.
Capture and share work knowledge
Create lessons with any content
Automated learning paths
Measure And Drive Greater Productivity
Engage And Improve Skills With Feedback
The right set of onboarding tools will supercharge your employee experience. Think about how you want to assemble your employee onboarding toolbox to help you deliver the best possible onboarding process. Also, when choosing the tools that best fit your needs, consider whether having different functions spread across different platforms makes sense, or would you benefit more from having an all-in-one platform for your onboarding. Hiring new talent is complicated – onboarding them shouldn't be. With the right onboarding tool, you can empower managers and new employees to hit the ground running.
Sign up for our newsletter!
Fine-tune your knowledge within on- and offboardings with our monthly newsletters.