How to succeed in remote onboarding?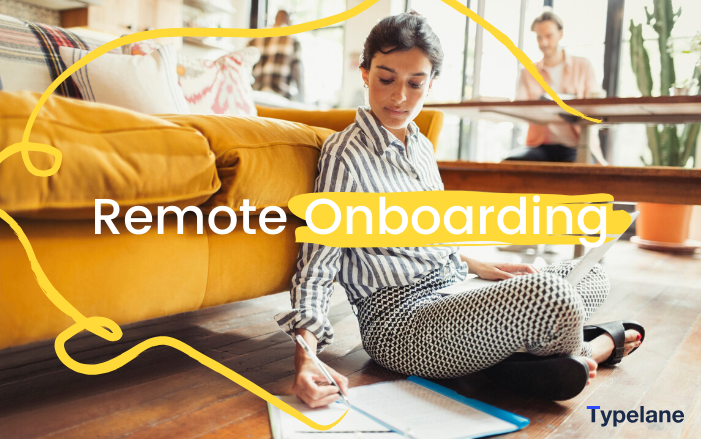 Working remotely is now increasing faster than ever. This sudden and rapid transformation in the ways we work has forced many companies to rethink and adapt their processes. Many companies are now thinking how to engage employees remotely? How to provide employees with the right tools for working remotely? And how to communicate and lead the team that all of a sudden had to transition into a remote setting? Indeed, there are many questions running in the minds of HR departments and business leaders, but one of the biggest challenges for employers that are hiring right now is, how to onboard new employees now that everyone is remote?
Successful employee onboarding is not a piece of cake –even if your team is not distributed– let alone when your new hire is remote. Employee onboarding plays an important role when it comes to employee retention and you only get one chance to succeed.
In a remote setting, employee onboarding is even more crucial as you have to engage the new hire without any face-to-face interaction. Effective remote onboarding requires a lot of planning as well as the right tools. At Typelane we know a thing or two about onboarding and wanted to share some best practices with you.
Paperwork
One of the first things to be taken care of when hiring and onboarding a new talent is paperwork. There are many documents and forms for the new employee to sign and fill out before their first day. In addition to the paperwork that needs to be completed, there are also other important documents, such as employee handbook and orientation materials, that need to be handed out to the new hire.
There are some great tools available for handling the onboarding documents remotely. For example, DocuSign that enables your new hires to sign paperwork electronically and Google Drive or Dropbox which are great places to collaborate, store and share documents and paperwork. Another example that may be worth exploring is Coda.io where you can store information that is easily accessible for the new hire. These are just a couple of options but the main point is that there are several great ways to take care of the paperwork without any face-to-face interaction.
More comprehensive onboarding tools enable all onboarding-related paperwork to be taken care of digitally and sent out to the new hire(s) via automated messages and workflows. The absolute best parts of these tools are that, first of all, everything is in one place, and second of all, once you create your onboarding paperwork workflow once, you can easily trigger the process whenever a new employee needs to be onboarded.
Communicating and sharing responsibilities
To ensure successful and engaging onboarding, it's important to involve managers as a part of the process. Especially when onboarding a new employee remotely and there is little to no face-to-face interaction the importance of seamless communication becomes even more important.
The new hire should have the lowest possible threshold to ask any questions they may have in mind regarding their new role, workplace, team and so forth. A manager's role in new team member onboarding is vital yet challenging; information is usually spread across multiple platforms and it can be very time-consuming to gather everything that is needed for onboarding. Another challenge, particularly for distributed teams, is that the quality of the onboarding process may vary remarkably depending on the manager's time, skills and other resources.
In terms of managing the remote onboarding, productivity and collaboration tools like Trello or Notion offer some wonderful checklists and templates to help managers stay on top of the process. Communication before and on the new hire's first day can be easily done via Slack or any other messaging platform but we'd recommend also to include video calls in the process. Video calls are a great way to include everyone involved as a part of the onboarding process and it helps the new hire to feel more comfortable and put names to faces.
Building culture and engagement
Employee onboarding is a vital part of building engagement and culture. Onboarding involves many administrative tasks, but it is also when an employee is immersed (or not) into the company's culture. Building a foundation for culture in remote onboarding can be challenging as there is less opportunity for showcasing the company culture for example in the form of a physical workplace and people. In other words, in a remote setting, new hires have to understand and adopt the values and culture without any in-person interaction or touring around the office. Without proper onboarding, remote employees might feel left out, disconnected and disengaged – not to mention that they won't be able to comprehend and adopt the company culture.
How can one build engagement and company culture during remote onboarding? There are many ways to do that!
Scheduling virtual coffee breaks with the entire team to welcome new hires as a part of the team, fostering communication via casual "water cooler" slack channels, pairing co-workers over coffee, asking some nice-to-know personal facts from the newcomer that can be shared to the rest of the team before the first day and so forth. Additionally, visual employee directories like Names and Faces make it really easy for the new hire to get to know their new co-workers and vice versa.
Creating a standardized remote onboarding process
As established above, onboarding is often seen as a tedious process that contains many manual tasks, a ton of extra work, a lot of confusion and frustration. Many companies are struggling to get a good process in place; there may even be co-workers unaware of new people joining the company – especially a problem for distributed teams. Moreover, a poor onboarding process may cause new hires to feel not just confused but also overwhelmed and unsure of what is happening and who to contact. This, in turn, will result in a remote employee's first day on the job to be awkward and not at all great. This is not the desired outcome, is it?
To avoid everything explored above, it's good to use tools to streamline and standardize the new hire onboarding. With the right tools, remote onboarding can actually be a pleasant experience, not just for the onboardee but also for the employer. By reducing the amount of repetitive manual work, the right tools help to remove some of the mental drain and stress that is related to the onboarding process. Automating most of the tasks also gives the entire company a better view of the process as well as the progress of each new hire. Another notable benefit of automating the process is that it enables to scale the processes when needed – whether the new talent is joining remotely or not.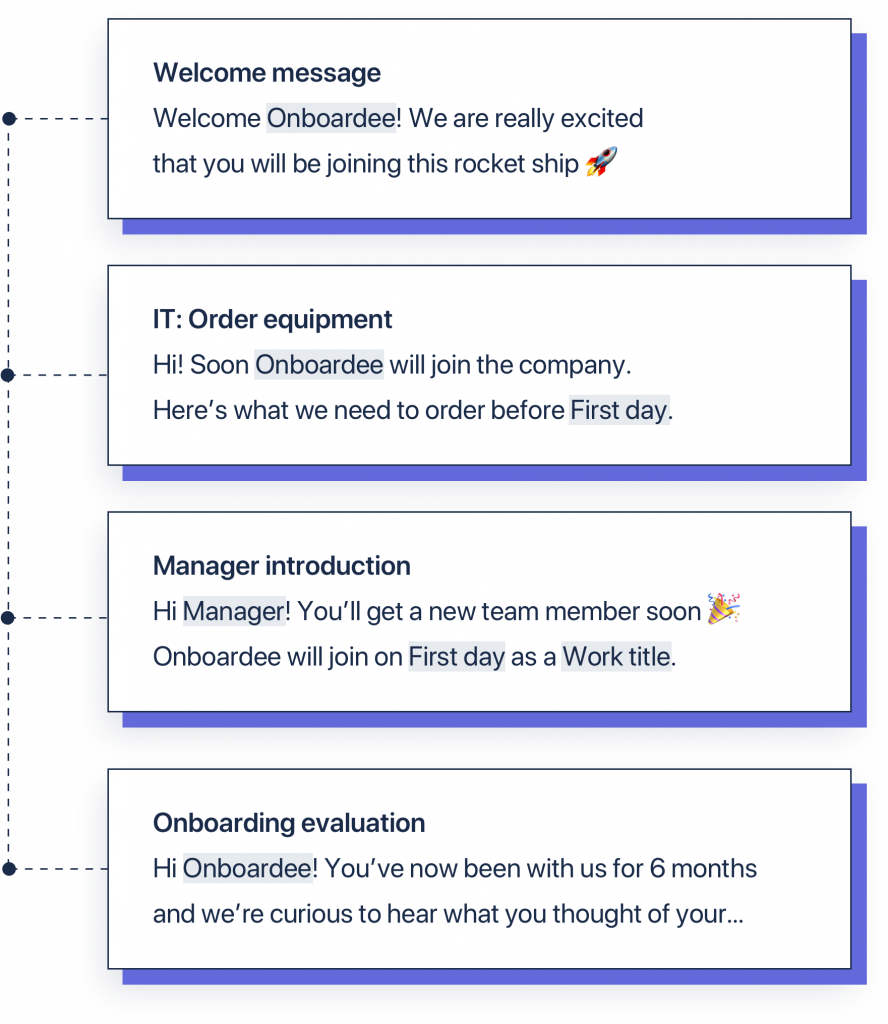 You only get one chance to make a first impression
The philosophies around both traditional and remote onboarding are very much alike – making new hires feel welcomed by the team, prepared for their first day and confident in stepping into their new role. When it comes to remote onboarding, however, there is more room for error; worst-case scenario, your new hire will end up feeling confused, disengaged and disconnected from the culture and people. "You only get one chance to make a first impression" applies here, and that's why every company hiring new talent should rethink and invest in a great remote onboarding.
Regardless of what tools or methods are being used, a successful remote onboarding process will help companies put their brand, culture and tone of voice at the heart of their employee experience. Carefully crafted onboarding process helps to make sure the new hire has a comprehensive understanding of what the company stands for and what are its core values well before the first day. There are many great remote onboarding tools and software available and everyone should choose the ones reflecting their needs. You can read some of our customer stories here to see why they rely on us with their onboarding needs.
At Typelane we want to empower companies to create a structured and engaging pre-boarding and onboarding that enables companies to continue the employer branding work even when the whole team is distributed. This helps employers to provide the same introduction to company culture no matter where the onboardee is – on-site or remotely.
To summarize, here are 8 super simple steps to help you elevate your remote onboarding: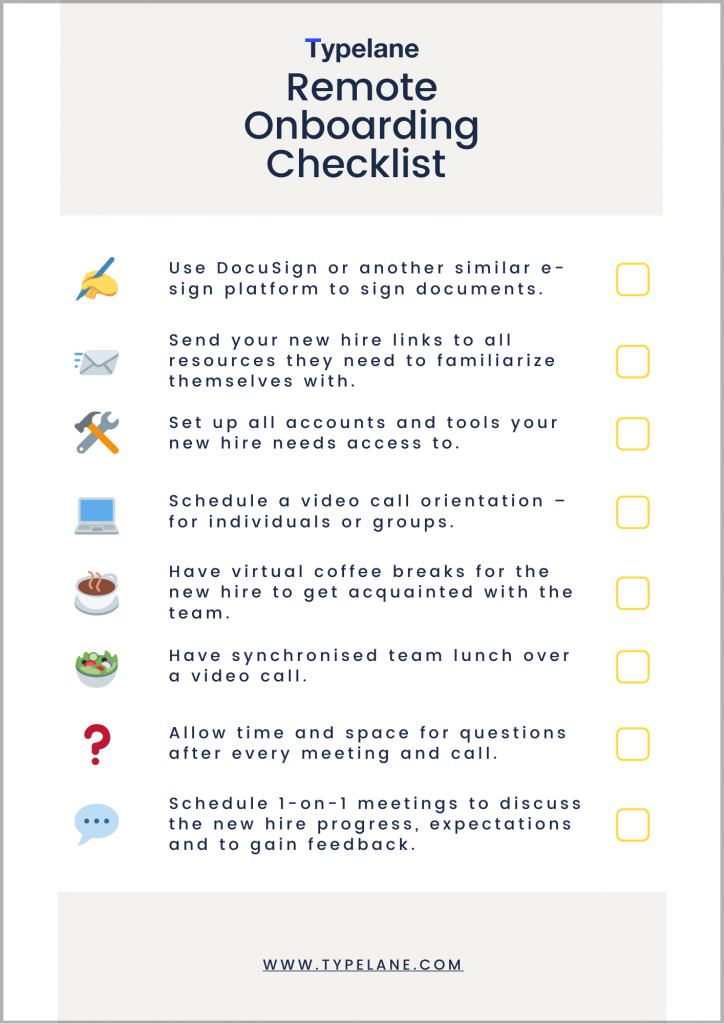 Happy (remote) onboarding!
Sign up for our newsletter!
Fine-tune your knowledge within on- and offboardings with our monthly newsletters.