What is the difference between preboarding and onboarding?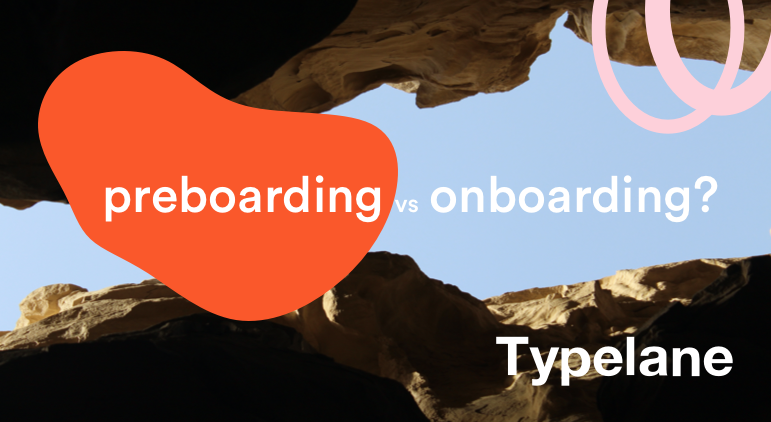 First of all, congratulations on growing the company. You've hired a new employee, and they are excited to come in on their first day. From the point where you two shakes hands to when they come in is a critical period.
While you're going through the day to day in your office, your recruit might be leaving a previous position or awaiting their first day. During this time, they may have additional questions or concerns that are lingering.
Having a pre-boarding process is a great way to help build your employer brand while also making the employee onboarding process much smoother.
This helpful guide will improve the public appearance of your company while raising morale for all recruits. Let's get to it!
Understanding the importance of preboarding vs. employee onboarding
If you can think back to a time where you started a new job, what was the onboarding process like? For many of us, it consisted of a couple of interviews leading to an offer. From there, you would schedule a start date and likely not hear from the company until you came on that day.
Most people have a grace period before they start a new job. They may have to leave a previous position, figure out childcare, and get other things in their life together before they start.
During this time, the nerves start to build, and they may have thoughts about what their first day will entail. Pre-boarding helps take all the stress and anxiety out of the equation.
New employees might feel alone or helpless during this time, so you want to do as much as you can to reduce the new job jitters.
The difference between preboarding and onboarding
The primary difference between the two is, preboarding starts from the second you come to an employment agreement with the new hire. This period may be a few days or even a few weeks.
Onboarding starts the day they walk into the office and clock-in. Onboarding tasks include things like, office tours, giving employee ID numbers, setting up the new hire with a computer/workspace, etc.
The right pre-boarding strategy can streamline your employee onboarding process.
Preboarding steps to take before their first day
For many top companies like Twitter preboarding is an essential part of their onboarding program. To make sure new hires has a successful first day Twitter thoroughly prepares for a their arrival — before a new hire even sits down at their new desk, their new email is set up, and a T-shirt and bottle of wine are waiting.
There are many things you can do to increase your employer branding while improving the new hires' morale. Here are some of the most effective pre-boarding steps you want to start implementing.
1. Welcome them to the team
We have all been in a situation where we're nervous about starting a new job. We wonder what the people in the office will be like. Maybe we fear whether or not we'll be capable of learning the job tasks. There are many things that cause a new hire to feel nervous.
One great way to make them comfortable is by showing them that you're there to help. Why not send them a quick text or even a phone call the day after they're hired? You could ask them if they have any other questions and throw in a few "company secrets." Keep the conversation light and informal to show them that they can relax now that they got the job.
2. Keep the conversation going
During the recruitment process, many new hires don't like to ask questions about vacations, holidays, and those types of benefits. They fear that the recruiter will think poorly of their intentions.
You can take these concerns off their back during their preboarding by sending them a welcome packet. This can contain all the information about "life at the office." You could also set it up so the right information is triggered at the right point to avoid information overload at once. Make sure all the information is in digital format so they can keep it on their phone and refer back to it if they have any questions. The messages can contain information about parking, break periods, calling off, sick days, holidays, and more.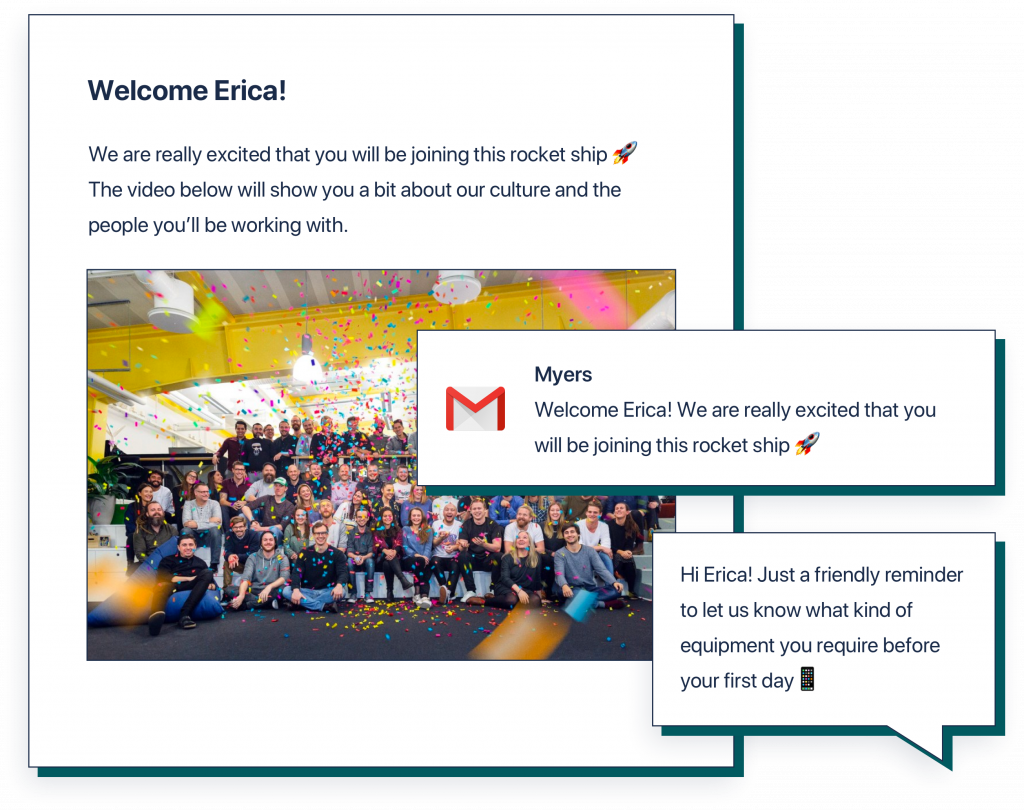 3. Offer new hires a mentor
A common employee onboarding process is to pair up the new person with a trainer or mentor. Why do we wait until they come into the office to introduce the duo? As soon as a job offer is agreed upon, you could introduce the two parties and get the pre-boarding process started.
Giving the new hire a direct line of contact takes some of the work off your back while also allowing the trainee to feel comfortable since they already know someone on day one. It's difficult to start a new job, and having someone in their position to relate to is great for employer branding and morale.
4. Offer a welcome package
Nothing says welcome to the team than a few nicely branded things. Imagine how they'll feel about the company when they get a box in the mail with company t-shirts, mugs, and other swag. Make it personal and ask questions during the interview so you can send them a personalized care package before they start.
If the new hire says they have a dog, send them a super cool company dog bowl or outfit. Not only will this get them excited to start, but they'll also share how awesome you are with their friends and family. You'll build up the employer brand by going the extra mile and showing how much you value your employees. It will definitely make your employee preboarding memorable and something the employee shares with others.
5. Share relevant information
Take the opportunity and share relevant information with the new hire. This could be answers to the most frequent questions new hires have or giving them access to the relevant information for their team and role. This will enable the new hire to get more insight into how their team works, what current focus is and what has been done. Most new hires are very keen on accessing this information early on, so why not give them the opportunity to do so? At Typelane we invite new hires to Slack and the relevant folders a few weeks before they join. The result? We have seen new hire productivity sky-rocket! And the new hires have always been eager to access this information so this is a preboarding tips we strongly recommend to leverage.
Final Thoughts
By this point, you should understand the importance of pre-boarding. There's a short window of opportunity for you to drive home how great the company is and why the new hire should love to work with you. Also with only 29% of the US workforce reportedly engaged, Employee Engagement strategies must start early. Going the extra mile and doing things the other guys don't is the best way to build the employer brand and make the best employees want to work with you.
With a dedicated preboarding program you will not only increase new hire excitement and engagement, you will also be able to take care of the administrative aspects making sure the new hire is ready to jump in on Day One.
Sign up for our newsletter!
Fine-tune your knowledge within on- and offboardings with our monthly newsletters.