How video can make your employee onboarding magical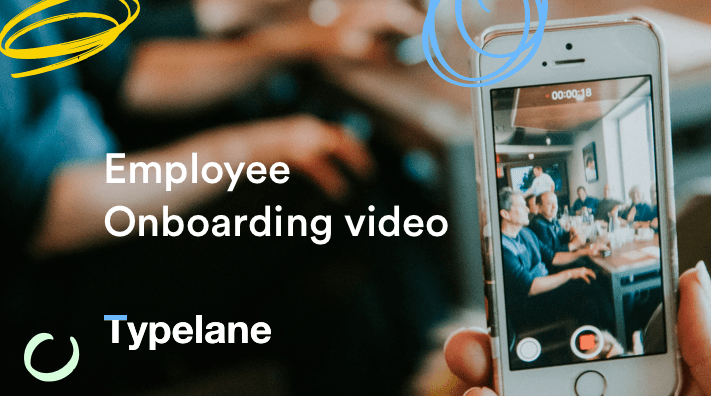 The human brain can process visuals up to 60,000 times faster than text. And, 95% of a video's message we see is retained compared to only 10% of the text we read.
Those are only two reasons why employee onboarding video makes for a far more engaging and successful employee onboarding process.
If an organization hasn't used video for onboarding, but only focused on text and images, it is a big opportunity left untouched. Not to say that onboarding is guaranteed to be ineffective without video. Still, why not make it more exacting and optimize it for success?
After all, well-executed onboarding gives an 88%-plus boost to employee retention, while leading to a 70% increase in staff productivity. Yet, according to research, only 12% of employees surveyed thought that their organization did a good job when it came to employee onboarding.
One of the primary issues hampering employee onboarding is that many companies just don't put the time and effort to get new hires adequately acclimated. In many cases, an organization thinks that employees will be fine with some written material and a pat on the back.
Whereas, while it's not necessary to coddle anyone, hires should be treated in a way that promotes their seamless transition from 'new staff' to an integral part of the team. As such, employee onboarding isn't about transferring information and beating someone down with company buzzwords. Really, the primary purpose is to interweave someone into the organizational fabric.
When companies keep finely tuning their onboarding strategy, namely by utilizing employee onboarding video, it's far likelier that they'll get the most out of their new hire.
Let's examine onboarding and videos at a more in-depth level:
Employee onboarding videos help socially integrate new hires
An alarming number of employers tend to overlook the social aspect of work. A good relationship with colleagues is a prerequisite to enable new hires to become fully productive. In fact, studies suggest that employee performances are vastly aided when they get along with one another. It makes sense, as a socially integrated staff is going to have an easier time communicating and collaborating. With social barriers removed, there won't be any hesitation to ask for help when it's needed. Nor will anyone be too scared to offer necessary constructive criticism.
For new hires, socially integrating them with the team will get them involved a lot quicker than without. With short videos new employees can more easily put faces to names making social integration easier. Even doing something like asking employees to provide a brief video biography about themselves would help new hires get acclimated promptly. Removing that "new guy/girl" awkwardness ASAP ensures employees start contributing at a far quicker rate than without social integration.
Employee onboarding videos speed up new hire productivity
As mentioned earlier 95% of a video's message is retained compared to 10% when it comes to the written word. This makes a big difference when onboarding new hires especially when it comes to how fast they can become productive.
On average it takes up to 8 months for a new hire to become productive. Imagine what it would mean for your organization to shorten that time by 2 months or more. Therefore it is a good idea to make sure to record the essential parts that are easy to share in a video. At Typelane we have made sure to recorded videos related to our culture as well as more practical ones focusing on how our sales tools work. All in an effort to enable our new hires to learn these things quicker.
Also, employee onboarding videos aren't only about making sure new hires become productive faster. They can also play an important role when it comes to your new hire retention. In fact, studies show that successful employee onboarding can improve its retention of new hires by 82%.
How employee onboarding videos can be used
While onboarding would be fun if it were just well-produced introduction-to-the-team videos, new hires need to know the ins-and-outs of their organization. Onboarding videos can be used to convey the following information in a highly engaging manner:
Showing a Real-Life Picture of Team projects/ways of working
Use something as Loom or Quicktime to record walk-throughs of team meetings, projects, briefings, or presentations in order to enable the new hire to get a better understanding of ways of working and current projects.
Inner Workings of the Company Culture
This is a callback to social integration – but it's still part of those nitty-gritty company details. Having the founder or CEO explaining the history and culture of the company to help new hires get a better understanding of the company they are joining.
Get current employees also to share their view so new hires will have an idea of how everything is interpreted in a practical sense. Showing new hires about the rules/responsibilities throughout the company and across departments will help them avoid confusion.
A Breakdown of an Employee's Workday
Without visual context, it's challenging to understand precisely how a job is supposed to look in action. As such, new talent within an organization will benefit tremendously from some form of reference point
Recording a highlight package video – of sorts – that conveys a standard 9-5 workday of employees in relevant departments will help new hires visualize their new role
Showing the Organization's Impact on the Community
It is a really good thing to show how the company contributes to society.
Showing a video that covers a company's community-based activities and overall mission can give new hires a sense of greater meaning while encouraging further engagement.
There is something powerful about being involved in something that goes beyond one's own personal needs, desires, and ambitions
A More Illuminating Job Description
A keenly crafted job description is vital for several reasons. Most importantly it will define what's expected of an employee. Not only does this clarify potential confusion and provide necessary boundaries, it also keeps staff accountable to those aspects covered in the description.
Unfortunately, with the written word, it can be challenging for employees to pick up on various nuances and expectations.
Comparatively, a few team members can record their insights on what comprises an employee's role within the organization. This technique provides a far more memorable set of guidelines. It also gives the new hire a more real-world window into what's expected of their performance.
If you haven't started already, it's time to get onboard with employee video onboarding
In the year 2020, there's no reason not to use every technological tool available to enhance onboarding within an organization. The fact is, with video services and the ease at which content can be recorded, putting together such material would be relatively seamless and highly cost-effective.
Sign up for our newsletter!
Fine-tune your knowledge within on- and offboardings with our monthly newsletters.